In Defense of Roy's Critics
Ed. Note: Yesterday afternoon, The Fightins Dot Com writer Ryan Petzar wrote his thoughts (In Defense of Roy Halladay) on the Ace of Ace's career, his time with the Phillies, the joy he's brought us fans, and why the boobirds need to lighten the hell up on a once-in-a-lifetime talent. It struck a nerve with our readers. One of them, blogger and longtime friend of The Fightins, the Reverend Paul Revere, felt compelled to provide an alternative perspective. 
I, too, was at Sunday's Cinco de Mayo massacre, the game in which many people have and will declare the end of Roy Halladay as we know him, and they're probably right. Following up his disastrous outing in Cleveland where he looked more like a batting-practice pitcher than a two-time Cy Young winner, Roy somehow looked even worse, surrendering nine earned runs in just two and third innings of work against the worst team in baseball, full of hitters at or below the Mendoza line. Perhaps most alarmingly of all, the man who has stated in the past that he enters each season with the goal having more games started than batters walked on the year handed out four free passes and hit two more batters on top of that.
Now, I agree with damn near everything Ryan wrote in his post yesterday. I cannot even begin to imagine what it must feel like to be Roy Halladay today — or Roy Halladay on any day of his life, if I'm being honest. I'm sure he's baffled and angered and confused and determined, sure that his greatness is still there despite all evidence to the contrary. It really is sad watching such a legendary player fade away before our very eyes. And while I admit it was uncomfortable and felt in some ways very wrong for the fans to boo one of the greatest pitchers of all time, a guy who gave the Phillies two remarkable years, a Cy Young, a perfect game, a playoff no-hitter and a gutty, heroic performance to stave off elimination pitching on a pulled groin, at the end of the day, particularly given the injury admission following that debacle at Citizens Bank Park, Roy Halladay has been as bad as a Major League pitcher can get. He's not earning that $20-plus-million he's getting paid right now, and the fans in attendance aren't getting what they paid for either.
I most certainly did not boo Roy yesterday. I don't really ever envision myself doing such for all the reasons Ryan so eloquently laid out. But I also didn't think it was unfair or classless for fans to voice their displeasure. If it was any other pitcher putting forth such a horrendous outing, our very own NLCS and World Series MVP included, no one would have thought twice. Underperform, and you're going to hear it in Philadelphia. This is not a new revelation whether you agree with it or not.
But more to the point, I do believe there is a sensible, logical reason to be mad at Roy Halladay. It has little to do with his underperformance and everything to do with professional responsibility. As a handsomely paid member of the team, Roy Halladay does in fact owe it to the franchise — and to a lesser extent, yes, the paying fan base — to let his employers know he's not feeling right. He has a responsibility to his teammates, to his manager, to his GM and owners to let them know when things aren't right so they can adjust and plan accordingly. The Phillies don't revolve around Roy Halladay, and as a part of a team, he needs to make sure everyone knows his status so they can make the best decisions for the team.
I understand that that may be a difficult thing for Halladay. As Ryan detailed, Roy has been a workhorse for over a decade and surely has worked through aches and pains throughout his career to wild success, but he has little experience with injury.
Roy Halladay isn't dumb. He knows he's no spring chicken anymore, and he's coming off a season in which he suffered a major injury and struggled for it. No matter how determined or how confident he was that he could return to form and work through the pain, the fact of the matter is bodies don't heal the same when you're 35 as they do when you're 25, and every little injury affects you to a greater degree. Coming off last season, when Roy wasn't Roy due to injury and fatigue and trying to pitch through the pain, he owed it to the Phillies, to himself – to the fans – to be transparent, to reveal what was going on. He didn't, and nothing good has come from it.
This is an argument that came up when nobody knew what the hell was going on with Chase Utley and his knee. There was no timetable on when he'd make his season debut, and it seemed as though Chase kept saying he was fine when he wasn't. It set not only Utley back, but the Phillies as well, since they weren't really able to address the situation, left in limbo waiting on Utley.
This is a different team and a different time. The promise of the years following the championship have faded, one round at a time. The Phillies are playing catch-up to the Braves and the Nationals, and truthfully they're looking more like a team destined to stumble into the basement than make one last stand. That is yet to be determined, but it doesn't help when your stars aren't performing and, worse yet, are not divulging injuries to the team, going out there under less than optimal conditions and struggling to be even average.
Roy Halladay and everyone else on the Phillies needs to understand that, whether you like it or not, you have a responsibility to the team and the franchise as well as yourself. This isn't football, where you absolutely have to look out for Number One because your contract isn't guaranteed and you can be cut at any time. The Phillies invested a lot in Roy Halladay, and they planned on having him healthy and ready to go, even if age and injury render him different from the Roy Halladay that signed on the dotted line.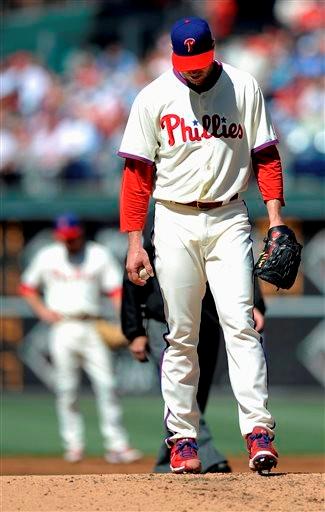 You shouldn't be mad at Roy for wanting to help his team win and failing. But you have every right in the world to be mad at him for keeping his discomfort and injury to himself as he went out there and hurt his team for weeks.
There's an odd dynamic here in Philadelphia where some athletes seem to be off-limits to the vitriol our fans are infamous for because "they play the game the right way." Work hard, hustle, give it your all and you are above criticism. Halladay and Utley are prime examples of that, and I understand. We all love the Utleys and Halladays more than the "For Who, For Whats," as we should, but Roy Halladay is not infallible. Neither is Chase or Ryan or Jimmy or anyone else on that team, just like none of us fans are infallible. Yet sometimes it feels like we pick and choose who deserves certain "benefit of the doubt" status and who does not.
It's foolish be angry at Roy Halladay for a bad outing, but it's not foolish to be mad at somebody for failing to live up to his professional responsibilities. I love Roy Halladay. I certainly wouldn't turn down an invitation to go to the zoo with him. But I'm also angry at him, just as I was a couple years ago at Chase, for keeping his injury to himself, and I think everyone has the right to feel the same way.
I hope he comes back and regains his legendary dominance. If he can't, it really has been beyond sad to watch his demise. But he also hasn't helped himself these past two seasons, just as he hasn't helped the Phillies, and that's grounds for anyone to rightfully be mad at him.