It doesn't look good for the Phillies after this weekend. There's not a whole lot I really want to say about any of it. Watching the Phillies stink again is sort of like breaking out the fat pants you've had stored for several years – you wish you didn't have to wear them again but a part of you is glad you didn't donate them in the first place. So here's an extra light edition of Phillies minutiae I dug up around the internet. See, we're still having a good time!
Mike Adams Pays to Fix a Little Boy's Cleft Palate
This is from the Ricki Lake Show which I didn't know was still a thing, when he was a Texas Ranger. His child was born with a cleft palate so he and his wife got involved with a charity that helps children who need the surgery. It's heartwarming. Especially when the little 4 year old kid puts the medal over Mike's head and sits next to him on the couch.
Ryan Howard Hits Home Run as Requested by Boy
You probably saw it. Tom McCarthy was talking about the meeting between Howard and A.J. Moncman during Howard's first at-bat on Friday, and how the boy, afflicted with a congenital eye disorder, asked the Big Piece to hit a home run for him. Then he did.
A.J. was diagnosed with Leber's congenital amaurosis (LCA)at an early age, according to USA Today. LCA is a genetic eye disorder that primarily affects the retina and causes severe vision impairment from a young age, according to the National Institutes of Health.

A.J. met first baseman Howard before the game and gave him a bracelet.

"I told him, 'I want you to hit a home run tonight just for this,'" A.J. said, in a video aired on MLB.com. After Howard hit the home, A.J. said, "I was like, 'Oh my gosh, that's probably for me.'"
Ben Revere Wearing a Flower Headband
This was taken by Rene Rivera during a Justin Morneau charity event in 2011. Found it on (the always excellent) Aaron Gleeman's  blog.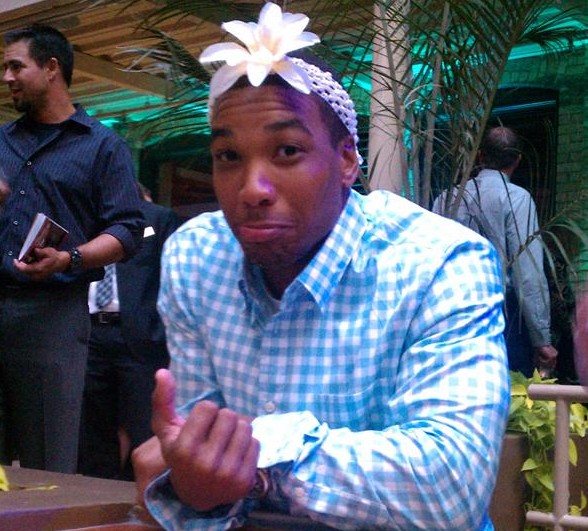 We'll Probably See Less of This Type in the Coming Days
Love to see the unruly tossed out of the ballpark. Top it off with the "Asshole" chant. I won't apologize for the stupid portrait mode video, because I had nothing to do with any of this.